Hermes Birkin Values Research Study
Published: January 8, 2016
Comparison of Investment Opportunities: S&P 500, Gold, and Hermes Birkin Handbags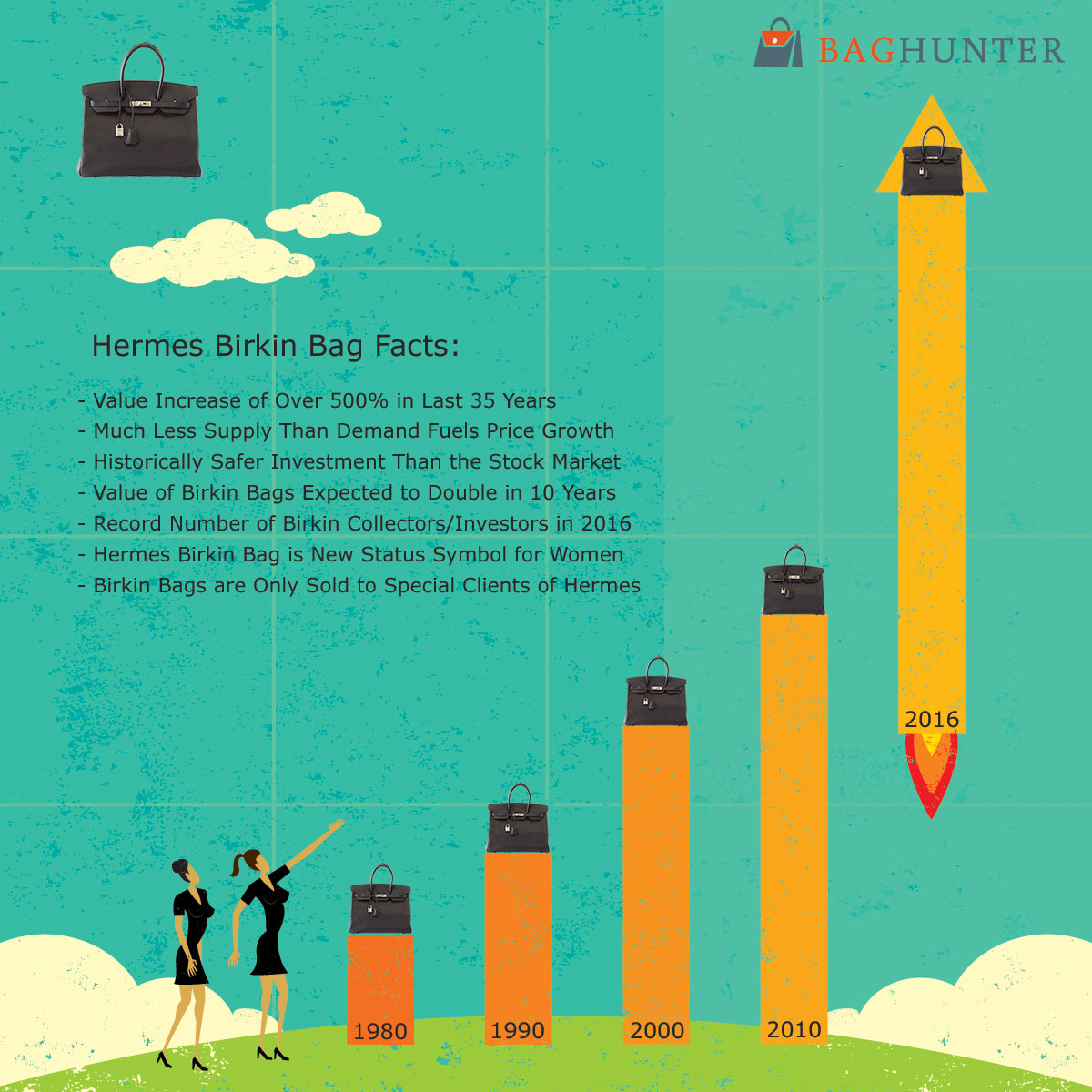 In this research study, we will compare three different types of investments – the S&P 500, gold, and Hermes Birkin bags. These three investments have been chosen as they represent distinct and popular forms of investments. The S&P 500 represents reflects the overall return characteristics of the stock market as a whole, gold is the most popular commodity for investors, and Hermes Birkin bags as a collectible and tangible investment. The period of 35 years has been selected for the historical data to reflect the date when Hermes Birkin bags were first produced.
Between 1980 and 2015, the S&P 500 has returned a nominal average of 11.66%, which equates to a real return average of 8.65%. However, these averages do not take into consideration the fluctuation of the markets during this period and assume the investor has chosen to neither buy nor sell for 35 years. For instance, the S&P 500 annual returns peaked during this period in 1995 at 37.20%, but also reached an average low of -36.55% in 2008.
During the same period of time, gold has offered an average annual return of 1.9% which equates to a real return average of -1.5%. Once again the averages do not take into account the fluctuation of the price of gold during this period and assumes the investor has chosen to stick rather than buy or sell during this period. For instance, gold reached a peak average price during this period in 2011 at $1,571.52, but also reached an average low of $271.04 in 2001.
In the same time frame, Hermes Birkin handbags have increased in value year on year, offering an average annual increase in value of 14.2%.
However, unlike the S&P 500 and gold markets, the value of Hermes Birkin handbags has never fluctuation downwards and has steadily and consistently increased. The bags experienced a peak surge in value in 2001, increasing in value by 25%, and with the lowest increase in 1986 when the value went up by 2.1%.
Selected Investment Averages, Highs & Lows 1980 - 2015
The historical data is essential for several reasons. First, it serves as an indicator for future fluctuations in the market. Based on the figures above, we can see that both the S&P 500 and gold markets are subject to both positive and negative fluctuations. On the other hand, Hermes Birkin handbags have only experienced various levels of positive fluctuation since their introduction 35 years ago.
It also demonstrates the risk involved when investing in the S&P 500 and gold markets. For instance, an investor who sold their stocks in the S&P 500 when it was at its peak in 1995 would have enjoyed a healthy return. Similarly, an investor who sold their gold commodity when it reached its highest price in 2011 would have enjoyed a profitable return. However, if an investor sold their S&P 500 stocks in 2008 or their gold commodity in 2001, they would have incurred a devastating loss.
On the other hand, an investor who purchased a Hermes Birkin handbag would enjoy a profitable return regardless of when they decided to cash in as the value has only risen since 1980. This makes Hermes Birkin handbags by far the least risky investment of the three. While economic factors affect the value of the S&P 500 and gold, the exclusivity of Hermes Birkin bags has seen them maintain and increase their value, even during times of recession.
However, historical data can only tell us so much and in order to look at the full picture we need to consider current factors in today's economic climate. To do this, we will look at each investment individually, taking into account last year's performance, current issues that are influencing values, and any other relevant data.
In 2015, the S&P 500 provided annual returns of just 1.36%, its worst performance since 2008. The trend continued into 2016, with the market marking its worst start to a new year in more than a decade on Monday, January 4.
"It is not surprising to see such a selloff considering negative headlines from China and tensions between Iran and Saudi Arabia," said Ryan Larson, head of equity trading at RBC Global Asset Management", "We are likely to see this kind of volatility a lot in 2016."
There are numerous indicators which point to a global recession in 2016 including the worsening of the sovereign debt crises in Europe, the debt problem growing in student loans, and economic data such as a drop in retail sales, a drop in U.S. factory orders, the weakening of U.S. export growth, and declination of corporate profits, pointing to similar patterns right before the last recession.
In 2015, gold traded continually below the key level of $1,200 an ounce, which is the average cost of excavating the metal from the ground. Finishing 2015 at $1,061.07, a drop of 10% on the year and 40% since it peaked in 2011, there are strong debates about how gold will fare in 2016. A poll of 10 investment banks undertaken by the Wall Street Journal, forecasts a yearly average of approximately $1,114 an ounce in 2016, down from the average of $1,156 in 2015.
There are also two major factors that will indicate the direction of gold throughout 2016. The first is dollar trends as gold tends to be inversely correlated to the dollar. Whether the dollar strengthens or weakens will certainly have an effect on the prices of gold. The second factor is the direction of crude oil prices which also affect gold prices. If sanctions are lifted on Iran, the addition to high oil output will be high and will negatively affect gold prices. The uncertainty and unpredictability of gold commodities makes it extremely difficult to know what type of year it will have.
2015 saw a record-breaking year for Hermes Birkin bags, with a record sale for a single handbag sold at auction broken by a pink crocodile-skin Hermes Birkin, sold for $223,000.
Hermes also featured as a brand that "Holds it value the best (and longest)" in an article by Fortune Magazine. The waiting list implemented by Hermes for a Birkin bag, sometimes as long as six years, has also contributed to driving the resale value of Birkin bags upwards with bags regularly selling on the secondary market for more than their original price.
As a status symbol for the elite and ultra-rich, the main factor affecting the secondary market for Birkins is desire. All signs point to that desire remaining as strong throughout 2016 as it has been since the bag was released in 1985, with media outlets fawning over celebrities such as Kim Kardashian and Victoria Beckham who regularly sport their Birkin bags in paparazzi pictures. Beyond the media attention, the exclusivity of the bag along with the difficulty in purchasing one brand new from Hermes means 2016 begins with demand far outweighing supply on the secondary and investment market for Birkin bags.
In conclusion, historical data along with current indicators show that investing in the S&P 500 or in gold commodities brings with it a huge amount of risk and returns are heavily influenced on external factors out of the investor's control. In comparison, an investment in a Hermes Birkin bag has shown to be safe and steady over the last 35 years, with all current indicators showing that this trend is set to continue. In 2016, the safest and least volatile investment market of the three is certainly Hermes Birkin handbags.
Works Cited
Damodaran, Aswath. "Annual Returns on Stock, T.Bonds and T.Bills: 1928 – Current." https://pages.stern.nyu.edu/datafile/histretSP.html
Carlson, Ben. "Are Stock Market Returns Since The 1980s An Aberration?" https://awealthofcommonsense.com/are-stock-market-returns-since-the-1980s-an-aberration/
Carlson, Ben. "A History of Gold Returns."
https://awealthofcommonsense.com/a-history-of-gold-returns/
NMA.org. "Historical Gold Prices – 1833 to Present." https://www.nma.org/pdf/gold/his_gold_prices.pdf
Sjolin, Sara & Mahmudova, Andora. "U.S. Stocks Start 2016 with Steep Losses."
https://www.marketwatch.com/story/us-stocks-set-for-tumble-at-open-as-china-fears-return-2016-01-04
Hayes, Adam. "6 Factors That Point to Global Recession in 2016."
https://www.investopedia.com/articles/investing/071515/6-factors-point-global-recession-2016.asp
Erheriene, Ese. "Gold's Outlook Isn't Shiny".
https://www.wsj.com/articles/gold-set-to-drift-lower-in-2016-1447757031
Nirmal, Rajalakshmi. "Gold and Silver in 2016: A Prediction."
https://www.thehindubusinessline.com/portfolio/real-assets/will-2016-be-better-for-precious-metals/article8058744.ece
Colleen, Kane. "Why a $223,000 Hermes Birkin Bag Might Actually be a Good Investment."
https://fortune.com/2015/06/23/hermes-birkin-investment/
Griffith, Erin. "Used Chanel Bags are Worth a lot, but Marc Jacobs? Not So Much."
https://fortune.com/2014/07/07/which-luxury-brands-have-highest-resale-value/
** Figures for Birkin bags are based on data collected by Baghunter. The data has been gathered from the price printed on purchase receipts which accompany bags consigned and sold through the Baghunter platform. In cases of bags without purchase receipts, data has been gathered from customer quotations of purchase price with the year of purchase verified using the 'blind stamp' located on the Birkin.