Chanel Bag Values Research Study
Published: June 14, 2016
Chanel Handbag Price History and Investment Potential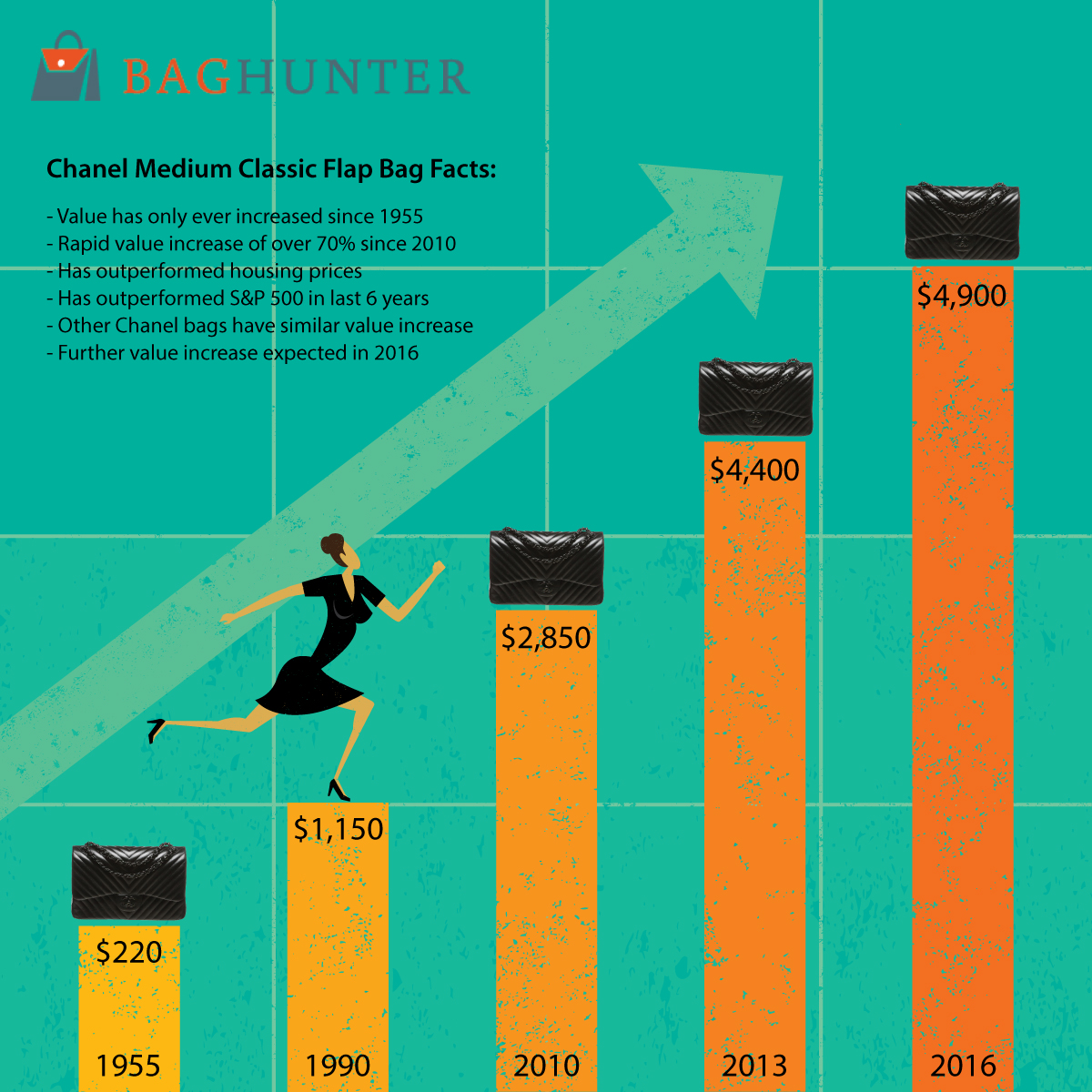 In this research study, we will look into the historical pricing of Chanel handbags, with a focus on the Medium Classic Flap Bag which has been on sale since 1955 and as such provides us with the best historical data. We will also take a closer look at how pricing has progressed for a number of popular Chanel handbags over the last six years to gain an insight into how Chanel implements their pricing structure. Using this data we will compare Chanel handbags to a number of other commodities to see its potential as an investment piece.
First released in February 1955, the Medium Classic Flap Bag, or 2.55 Bag, is the oldest and most consistent bag in the Chanel collection. Due to this, it is the best bag to analyze in terms of historical pricing. Upon release, the Medium Classic Flap Bag was sold for $220. By 1990, the exact same bag was on the shelves with a price tag of $1,150. This 45 year period represents the slowest growth in value of a Medium Classic Flap Bag throughout its history and while the pricing stood still for some years during this period, it never once fell or depreciated.
From 1990 onward, Chanel implemented different pricing tactics with the value of the Medium Classic Flap Bag rocketing to $1,650 by 2005, $2,850 by 2010, $4,400 by 2012, and $4,900 as of May 2016. While the increase in price from 1955 to 1990 could be explained by inflation and a small markup, there are certainly other factors at play since 1990 which have seen the mainstay bag increase almost fourfold in just over a quarter of a century.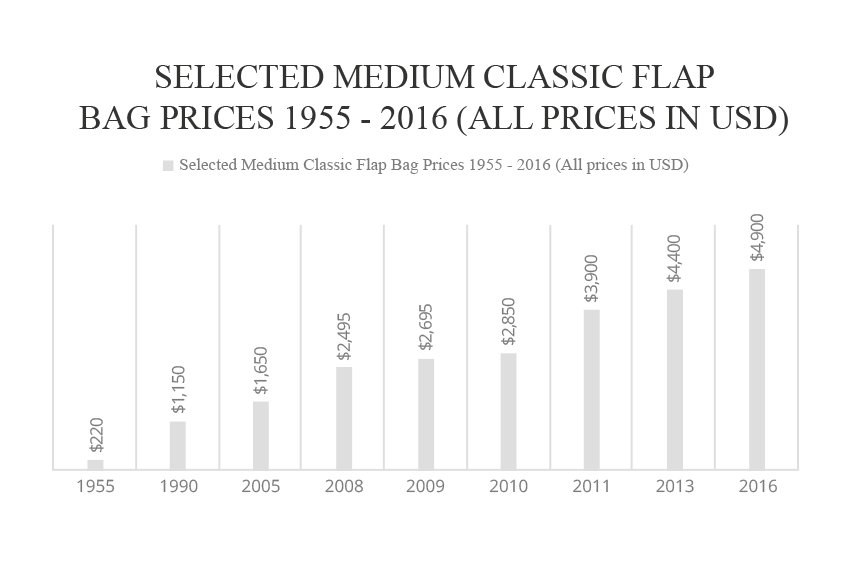 The table above provides an insight into selected prices for the Medium Classic Flap Bag between 1955 and 2016. What is immediately clear is that the value of the bag has only increased throughout this period. This may be expected as the price of almost everything has increased during the last 50 years due to factors such as inflation, rising material costs, and greater labor costs. However, inflation between 1955 and 2015 averages at 3.70% per year. If we were to apply this to a Chanel Medium Classic Flap Bag purchased in 1955 for $220, today's price would be $1,967.17. That's a full $2,932.83 less than the actual value of the iconic Chanel bag.
It is clear that Chanel do not simply consider inflation and raise their prices accordingly. In fact, the value of the Chanel Medium Classic Flap bag has far outpaced the rate of inflation over the last half a century. There are other factors at play such as increasing profit and maintaining the exclusivity of the brand. These tactics clearly work as since 1955, there have been a number of financial depressions including the Energy Crises in the 1970s, Dotcom Bubble in 2000, and Subprime Mortgage Crises between 2007 and 2009. Yet, throughout this period, Chanel have not only maintained their pricing, but have also increased the bags value numerous times in excess of inflation.
This pricing tactic is not only evident in the Medium Classic Flap Bag. It has been seen in a number of their signature bags since their release. The table below shows the value of selected Chanel handbags year on year since 2010 (the Boy Bag was released in 2012 so data for that bag is only available from that year).
Year on Year Prices of Selected Chanel Handbags between 2010 and 2015 (All prices in USD)
| | | | | | | |
| --- | --- | --- | --- | --- | --- | --- |
|   | 2010 | 2011 | 2012 | 2013 | 2014 | 2015 |
| Medium Classic Flap Bag | $2,850 | $3,900 | $4,400 | $4,400 | $4,900 | $4,900 |
| Reissue 2.55 Size 226 | $3,250 | $4,300 | $4,900 | $4,900 | $5,500 | $5,500 |
| Reissue 2.55 Size 227 | $3,600 | $4,700 | $5,300 | $5,300 | $6,000 | $6,000 |
| Boy Bag Small |   |   | $2,600 | $3,700 | $4,000 | $4,000 |
| Boy Bag Medium |   |   | $3,200 | $3,900 | $4,200 | $4,200 |
There are a couple of points to note about the table above. The first is that data can only be provided until 2015 as we are currently only halfway through 2016 and a price increase on most handbags is expected before the year is complete. The reasons for this expected price increase can also be explained by the data displaying the same prices for handbags in both 2014 and 2015. Starting in 2014, Chanel embarked on an exercise to harmonize the prices of their handbags worldwide. Prior to 2014, many styles of bags were priced very inconsistently across different countries and as such Chanel decided to freeze any price increases until they had harmonized all prices globally. This exercise was completed at the beginning of 2016, and as such a price increase is expected imminently.
The main point of note from the table above is the fact that regardless of style, each of the Chanel handbags listed have only increased in value. However, there have been inconsistent years with some years witnessing price increases of up to $1,000 and other years witnessing no price increase at all. This shows a slight unpredictability in the pricing strategy of Chanel, but it is still clear that their handbags increase in value consistently if the time period considered is longer than a year. It is also clear that Chanel creates their own rules when increasing the prices of their handbags, with the price increases far outweighing any inflation, labor, or production cost increases.
It is also interesting to see how Chanel implements price changes for different styles of handbags. Taking the five handbags listed above, we can see what percentage they have increased in value year by year. Even though all the bags have experienced a surge in value over this time, the percentage increase varies from style to style.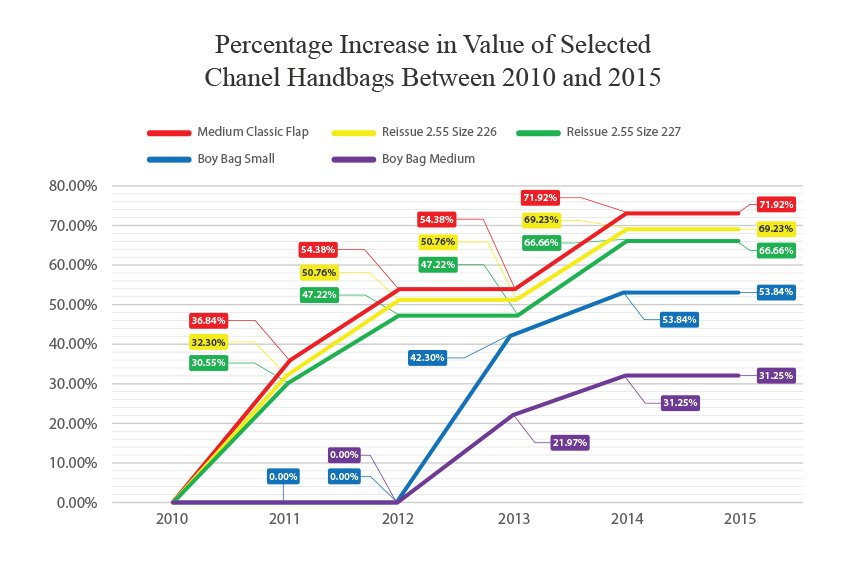 What's immediately evident from the above graph is that the largest percentage increase in value between 2010 and 2015 was placed upon the mainstay Medium Classic Flap Bag. Although both Reissue 2.55 bags experienced quite a similar increase, it is the Medium Classic Flap which has surged in value by 71.92% in just six years. Another interesting piece of data found by looking at the percentage increases is the performance of the Boy Bags. Due to their popularity upon release they experienced a surge in value in a very short space of time. However, the popularity of the small size over the medium size saw that particular bag rise in value by 53.84% while the medium bag only rose in value by 31.25%. This is an interesting piece of information for investors who are seeking to spot the next big investment opportunity.
Another interesting way to evaluate Chanel as an investment is to look at how they have performed against other luxury good, traditional investments, and inflation over the same time period. For this we have selected the Medium Classic Flap Bag as it is the mainstay bag of the Chanel collection and the most popular for investors. We have also taken a selection of other investment opportunities to see how they compare. This information has been complied into the infographic below.
The Chanel Medium Classic Flap Bag has increased in value by a whopping 71.92% between 2010 and 2015, far outperforming housing prices in the United States, the S&P 500, and inflation.
This trend places Chanel handbags at the forefront of any conversation about a sound investment. Of course, there are considerations to make when investing in a Chanel bag as the value relies on the bag's condition being comparable to that of a new bag in many cases. However, vintage Chanel bags also fetch a high percentage of their value on the resale market, even with slight wear.
The emergence of ultra-luxury marketplaces over the last few years also plays a significant role in the potential for Chanel bags as an investment piece. As the popularity of these marketplaces has grown, high-worth handbags have become more easily available to women from all backgrounds and walks of life. The huge interest in purchasing handbags through these marketplaces has also seen the resale value of Chanel bags skyrocket due to the simplicity of the process for investors, collectors, and handbags aficionados to buy, sell, and consign their handbags via these means.
Many ultra-luxury handbags marketplaces promise payment as high as 80% of the sale value to people who wish to sell their bags this way, with payment offered in as little as 48-72 hours by some marketplaces. This represents an easy, inexpensive, and hassle-free way of making a return on an investment in a Chanel bag. As one of the pioneers of ultra-luxury marketplaces, Baghunter has emerged as a respected market leader in this vertical which has rapidly risen to become a multi-million dollar industry.
In conclusion, we can see that the Chanel Medium Classic Flap Bag remains the flagship handbag for Chanel in terms of appeal, value, and as the best investment option. However, it is also worth noting that Chanel is willing to dramatically increase the value of newer handbags which have the potential to become mainstays, such as the Boy Bags. One thing is certain, the value of Chanel bags have historically increased consistently regardless of outside influences and are likely to continue to do so.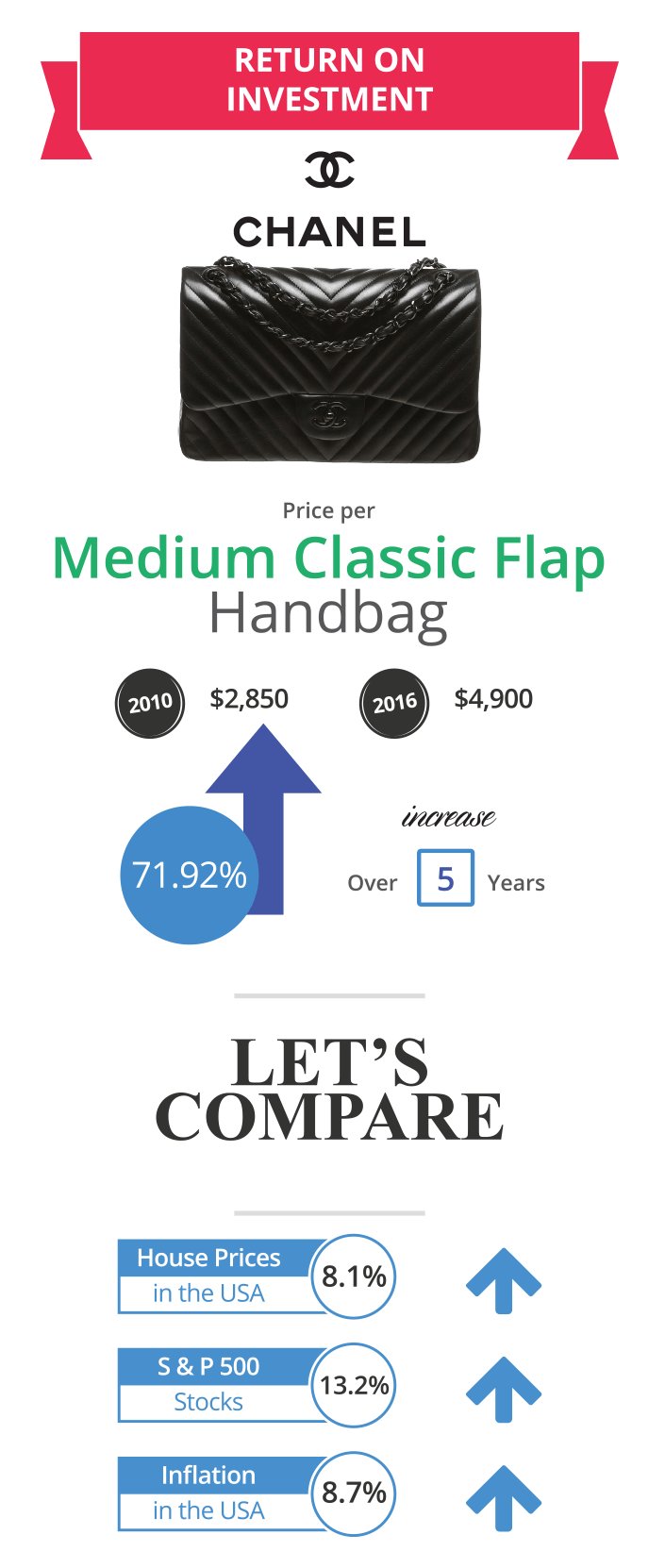 Works Cited
Lewis, Casey. "See How much Chanel Bag Prices Have Skyrocketed this Decade."
https://www.racked.com/2014/8/26/7579573/chanel-bag-price-increase
BragMyBag. "Chanel Price Increase Over the Years"
https://www.bragmybag.com/chanel-price-increase-over-the-years/
Measuringworth.com
https://www.measuringworth.com/calculators/inflation/result.php
Westegg.com
https://www.westegg.com/inflation/infl.cgi
Cargurus.com
https://www.cargurus.com/Cars/price-trends/Mercedes-Benz-CLS-Class-d751
"Annual Returns on Stock, T.Bonds and T.Bills: 1928 – Current"
http://pages.stern.nyu.edu/~adamodar/New_Home_Page/datafile/histretSP.html
US Inflation Calculator