No Upfront Cost

There is absolutely no upfront cost to list your bag with the BagHunter network. Simply click

Get Started

to start the authentication and listing process.

Competitive Commission Rates

Using our network of marketplaces and large audience, we're able to only receive 20-30% commission once your bag sells. After the sale you'll be paid in as little as 48 hours.
Chanel & Hermès Bag Consignment
Expert Evaluation & Authentication

Our team of expert inspectors are obsessed with everything related to luxury bags. We verify the authenticity of every bag we sell by hand. Every tiny detail is examined and authenticated.

Fair & Honest Offers

We're so confident in our authentication process that we can offer higher consignment and selling payouts than many other consignment boutiques.

LuxMarket Listing

All bags will be listed on LuxMarket, a sister company of BagHunter. LuxMarket is a well established eBay™ ultra-luxury goods marketplace with a large customer-base of collectors.

VIP Members Notified

Your bag listing will be emailed to our list of VIP clients and bag collectors.
Fully Insured

Your bag is fully insured for the full value during shipping and while Baghunter is in possession of your bag.

Massive Exposure

With millions of fans worldwide and regular media coverage, our website, Baghunter.com has quickly become the leading online marketplace for ultra-luxury bags.

Social Media Impact

Your bag will be posted to our social media accounts which have thousands of active fans and followers waiting for their next favorite bag.

BBB Accredited

We have the best reputation in the industry and have NEVER had a complaint in 7 years of selling luxury goods.

"When I decided to sell my Birkin bag and contacted Baghunter about a quote, I received a quote within 24 hours and it was much higher than from anyone else I contacted. I quickly decided to consign my bag with Baghunter. They assured me that the pre-paid label was insured for the full amount of the bag as well as fully insured while in Baghunter's possession. About 30 days later, my bag was sold and Baghunter sent me payment within 48 hours. Baghunter's professionalism and smooth process made selling my bag a piece of cake and I could have not picked a better company to consign my Birkin bag with!"
"After researching and considering a number of other luxury goods consignment sites, I chose Baghunter to sell my Hermès Birkin bag. A high degree of trust is required to send a new, high value, desirable item like the Birkin bag to a company I had never dealt with before. My decision to use Baghunter was based on the fact that site specializes only in high end bags and regularly receives high marks in the industry for credibility. I was not disappointed! The process of delivering the bag was both smooth and professional, and Baghunter handled the shipping arrangements via a secure carrier. Once received, the bag was evaluated, authenticated, photographed and then expertly advertised on the site. The bag sold at my asking price within ninety days, and I received my proceeds quickly via wire transfer to my account. As a consigner, I couldn't have been more pleased with the service provided by Baghunter. Thank you!"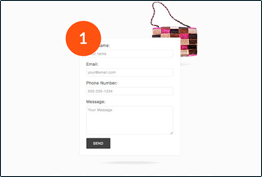 Tell us about the bag you would like to sell or consign and our experts will get back to you within 48 hours with a custom preliminary quote.
After you accept our quote shipping is made as easy as possible. Ship your items with our Free, pre-paid, and insured shipping label.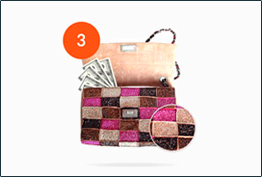 After our experts inspect and authenticate the bag you'll receive an offer. You'll receive payment according to your preference.
Your bag is fully insured when being shipped to Baghunter. When your bag arrives it is also insured against theft, loss or damage by our business liability insurance for the full value of the bag with the maximum insured payout capped at $250,000.