The Reality of Purchasing a Hermès Birkin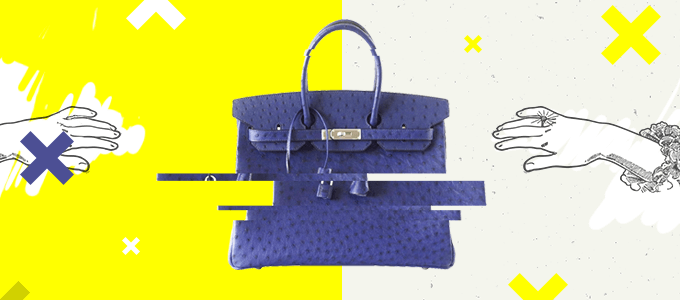 It's well known among lovers of Hermes that getting your hands on a coveted Birkin bag is no easy task. Rumors have spread among forums and in discussions about lengthy waiting lists, a prior and extensive purchase history, and a lot of luck being required to even have a slight chance of purchasing a Birkin directly from Hermes.
Much of this information came from regular women who shared their own experiences of trying to purchase a Birkin directly from a Hermes boutique and as such was more hearsay than anything else. However, that has all changed following an investigation published this week by the Daily Mail in which they sent ordinary women to three Hermes stores in Manchester, United Kingdom, and London, United Kingdom to try and buy one of the most exclusive bags ever made.
A Range of Excuses
What was so interesting about this investigation was the range of excuses provided to each of the three women who entered three separate boutiques and concessions. There didn't seem to be a uniform response provided by the Hermes sales assistants, with many of the women left even more confused by their experiences.
The first 'regular' woman entered the Hermes concession in Selfridges, London, and informed the sales associate that she has "yearned to own a Birkin or Kelly" and was "at last in a position to so it." The immediate response was that none were available in the store, even to view. When pressed further, the 'regular' woman was told that other Hermes stores 'may' have some in stock but that it was impossible for the sales associate to have access to that information, even a phone call was out of the question. Upon further questioning, the 'regular' woman was informed that maybe there will more coming into the concession but the time frame is unknown and the waiting list is a thing of the past, with Birkins and Kellys sold on a first come, first served basis.
The second attempt by a 'regular' woman to purchase a Birkin occurred at the same Hermes concession in Selfridges and in the New Bond Street store, both of which are located in London. The first stop was the concession in Selfridges who inform the customer that they 'are not selling handbags today' and they 'don't communicate' with other stores. Trying her luck at the store on Bond Street, our 'regular' woman again requests to see a Birkin or Kelly bag and is met with the response that there are 'none in stock'. Pressing him, she asks when they might arrive and is informed that the staff are unaware of what is on deliveries from Paris. A last ditch attempt to get on a waiting list is met with rejection as is an attempt to provide contact details. Instead the woman is told she should pop in every day on the off chance one has arrived on a delivery from Paris.
The third attempt by a 'regular' woman to purchase a Birkin directly from a Hermes store occurred in Manchester, United Kingdom. She tells the sales associate she has inherited some money and would like to take a look at a Birkin bag. The immediate response is that there are none in the store and the waiting list was closed two years ago due to high demand. The sales associate also confides that they have never had any in the Manchester store and she has only heard of rare occasions when someone has got lucky in a London store.
The Official Line from Hermes
When Hermes was contacted by the Daily Mail, they were informed that 'Each Hermes store director worldwide is responsible for buying for their own store' and 'they place seasonal orders twice a year, which are generally received six to 12 months later.'
It seems that even Hermes don't know when and even if any of their stores worldwide will receive a Birkin or Kelly, making it impossible for regular women to simply walk into a store and purchase one unless they have remarkably good timing and more luck than is imaginable.
Another interesting line from Hermes concern the reason why Birkins and Kellys are so exclusive. Every artisan who works for the company is trained for three or four years before they are even allowed to touch the hide. Then, only 10 percent of the leather is actually used for the creation of a bag with a single artisan completing the process for each. This makes the production of Birkins and Kellys completely dependent on the number of properly trained craftsmen in the company at any given time.
Realistic Options for Regular Women
So, what does all this mean for 'regular' women who aren't Kim Kardashian or Victoria Beckham, but wish to own one of the most sought after bags in the history of fashion? Essentially, purchasing a bag directly from Hermes is out of the question unless you are a celebrity or one of the luckiest people on the planet.
For regular women who wish to invest in a Hermes bag the only realistic option is to use a trusted reselling service who don't discriminate based on income or purchase history. At Baghunter, we provide an essential service to women worldwide, providing an opportunity to own a handbag that would otherwise be completely inaccessible to them.
However, there is a word of warning that accompanies purchasing a Hermes bag from a secondary source. The counterfeit market for these bags is thriving and auction sites such as eBay are rife with fake Birkins and Kellys. There are even a high number of consignment websites which claim to resell authentic Birkins, but actually send extremely convincing fake bags. It is therefore essential to use a trusted consignment service when making the decision to purchase a Hermes bag online.
To help you make the right decision and decrease your chances of becoming a victim of the increasingly convincing counterfeit market, we highly recommend you familiarize yourself with the small details on Hermes bags which can help you spot a fake. Read our Authentication Guide to see how the experts authenticate Hermes bags and ensure you only deal with trusted businesses before making a purchase.