How to Clean and Maintain Your Handbag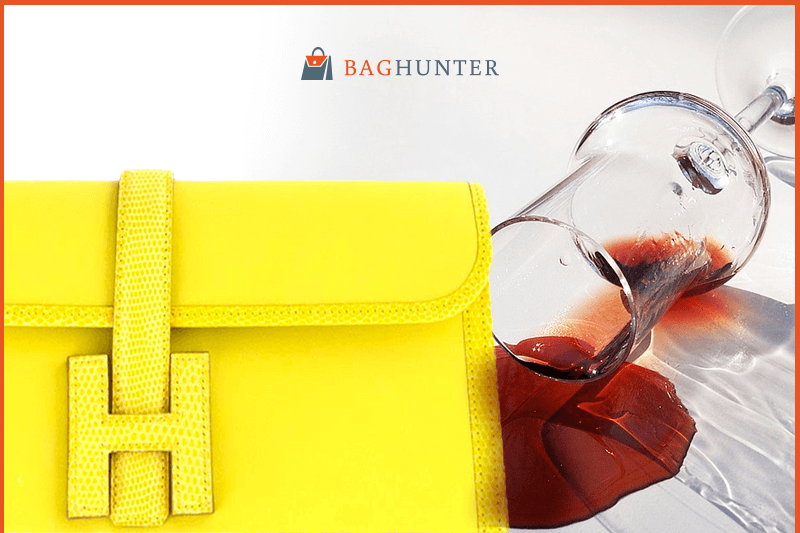 Its two months after you've bought your stunning Hermes or Chanel handbag and disaster has struck. A spillage, stain, scuff, or mark has appeared on the exterior or interior of the bag and panic begins to rise. But, don't fret! Even the most careful of women experience that feeling of dread when a mark appears on their precious handbag and all is not lost.
In this guide we look at how to clean and maintain luxury handbags. From storage to prevention to what to do if a spill or stain occurs, this guide is designed to help you keep your handbag looking brand new and as stunning as the day you purchased it.
Storage
Let's begin with storing your Hermes or Chanel handbag. How you keep your bag when it's not in use will affect its lifespan and appearance. Many women use their handbags only on special occasions, leaving the bag in storage for much of its life. Even women who heavily use their bags need to store it overnight or on occasion.
The first step in storing your handbag is to let it air for a couple of hours. This is especially important if you are planning to store it for more than a couple of days. Once the bag has aired, fill it with loose balls of crumpled acid-free tissue paper. Don't overfill the bag, but place enough paper in it so that it will hold its shape.
If the bag comes with a dust cover, as Hermes Birkin and Kelly bags do, place the bag in the dust cover and store in a location that is well-ventilated and away from direct sunlight. If you don't have a dust cover, you can purchase one or store the bag in a box. However, do not store the bag in an airtight box as this will eliminate the moisture in the air and lead to a dry, cracked bag. Instead, leave the lid of the box open so the bag can breathe.
If you are planning to store the bag for a prolonged period of time, consider using a fine leather conditioner to help protect it against dry rot. Be extremely careful here as not all leathers are created equal. Make sure you use a leather conditioner that is designed specifically for the leather on your bag and remove any excess conditioner immediately before storing.
Prevention
Obviously, prevention is the best way to ensure your bag remains in perfect condition for many years. Training yourself to become aware of your bag's whereabouts until it becomes a habit is a great way of preventing unnecessary damage or stains. Inspect and be conscious of where you are placing your bag when you put it down to rest. Ensure every item within the bag is securely capped to prevent spillage. Avoid placing sharp and pointy objects inside the bag.
Another way to prevent any damage to your bag is to be aware of the property of the leather that is made from. Many high-quality and exotic leathers present on Hermes and Chanel bags are not water resistant. Keeping your bag out of the rain entirely is highly recommended, even with leathers that are water resistant. Also, keep your hands clean when touching the exterior of the bag. Ensure there are no traces of cosmetics or water on your fingers whenever you handle the bag.
Another common cause of marks or scuffs on handbags is jeans. Many women wear jeans with their Hermes or Chanel bags and allow the bag to rub off the abrasive material. Constant rubbing against jeans will cause the bag to scratch, scuff, or even worse. If you are wearing jeans while carrying your bag, be conscious of this and hold the bag away from the jeans at all times.
Regular Cleaning
Cleaning your bag regularly is the key to extending its life and catching any small scuffs or stains that may have accidently happened. It is worth inspecting your bag every few days for unsightly scuffs and cleaning your bag on a monthly basis. Creating a monthly schedule is ideal as it cleaning the bag too frequently can weaken the leather and lead to tearing.
The process of cleaning a leather bag is surprisingly simple. Use baby wipes that are free of perfume chlorine, alcohol, and are pH-neutral. Use these baby wipes to lightly wipe the dirt from the bag. Do not under any circumstances scrub the material on the exterior of the bag. Also, never use a wet cloth on your bag. If you find water marks or major scuffs on the material refer to the section below.
Part of the regular cleaning of your handbag is the interior. To remove the dust and other particles inside the bag use a gentle vacuum cleaner or you can dust away the residue using a feather duster. Also remember the hardware of your bag when cleaning. Many bags are finished with precious metals such as palladium or gold which can be cleaned using a soft brush and then dried with a soft cloth.
Major Spills/Stains
The key to removing major spills or stains is timing. As soon as you have noticed the mark, make it your priority to remove it. The first step you can try for stains that have occurred very recently is to go back to the baby wipes. Gently rub the area where the stain or spot has occurred and see if there is any noticeable difference. If the stain is becoming less visible using this technique, continue to use baby wipes very gently on the area until the stain is fully removed.
Another technique recommended by Hermes and Chanel owners is the use of hairspray on a cotton bud. When using this method, test it on a small inconspicuous patch of the bag first to ensure there is no bad reaction. Then, spray hairspray on the tip of a cotton bud and gently rub the area where the stain or spill has occurred. If these methods don't work, it is best to seek the help of a professional and submit your bag for a spa treatment.
For water marks and spills, there isn't really any home solution. However, as soon as you have noticed the spill or water on your bag, wipe away the excess liquid with a dry sponge or cloth. Allow the leather to dry naturally in room temperature and do not place beside a heater as this will cause even more damage to your bag. If the stain remains, you will need to take it to an expert for spa treatment.
Finally, if there is any odor coming from your handbag, place a container of baking soda inside the bag. Try to use a large container that covers a wide surface area. Leave the container inside the bag for a few hours at room temperature and as the odor is released, the baking soda will absorb it. You may have to change the baking soda a couple of times to remove the odor completely.