Bags of the Week: Chanel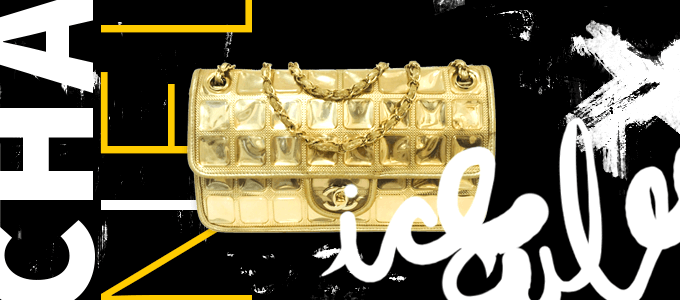 Welcome to another edition of Baghunter's Bags of the Week, a chance for you to gain an insight into some of the most stunning bags in our collection. This week we are looking at Chanel Bags to Savor and have lined up three beautiful bags to place under the spotlight. We will take a look at a Chanel Ice Cube Bag Gold Metallic Limited Edition, a Chanel Reissue 2.55 Bag Silver Metallic Alligator, and a Chanel Lucky Charm Reissue 2.55 Bag in Black. Each of these bags are incredibly unique and rare with Baghunter offering a once in a lifetime opportunity to get your hands on one.
Chanel Ice Cube Bag Gold Metallic Limited Edition
First up is an extremely rare and hard to find and Limited Edition Chanel Ice Cube Bag in Gold Metallic. There were only a handful of these bags made and it is almost impossible to find elsewhere. Crafted from lambskin leather, a classic Chanel material, the bag boasts a wonderful and eye-catching gold metallic color. The familiar design shines and glows with the gold metallic color, and even the famous interlocking C's on the clasp boast a matching color.
The details featured throughout the bag are magnificent, as one would expect. On the side panels you can see the quilted, diamond pattern synonymous with Chanel. The side panels also offer a degree of flexibility, allowing the owner to place additional items in the bag without compromising the shape. The strap which is surrounded by a chain as per usual on Chanel bags has also been dyed a gold metallic color in keeping with the theme and can easily be folded over to adjust the length depending on how you like to wear the bag.
Measuring 11.5" x 7" x 2.25", this bag is ideal for evening wear and can hold essentials such as a makeup kit, mobile phone, purse, keys, and other essentials for an evening out. The interior features an open space along with a hidden zip compartment where you can store valuables safely and out of sight. Acquired in excellent condition, this bag shows only minor signs of wear at the bottom and is very close to pristine condition. To find out more about this rare and wonderful evening bag click here.
Chanel Reissue 2.55 Bag Silver Metallic Alligator
Next up we have an exquisite Chanel Reissue 2.55 Bag Silver Metallic Alligator. With only a handful produced by Chanel, this bag is an extremely rare find and is very likely to be snapped up quickly. Crafted from exotic alligator skin, a material rarely used by Chanel, the bag boasts an eye-catching silver metallic color which is almost white in appearance. The alligator scales provide a unique pattern with larger scales found in the middle of the bag and smaller scales at the edges.
There are numerous unique details found in this Chanel Reissue 2.55 such as the side flaps which have been crafted with extra material to provide additional space within the bag while maintaining the shape. Another noticeable feature of the bag is the Mademoiselle rectangular lock, a style which really suits the overall appearance and style of the bag. The shoulder strap is protected by a silver metal chain, also adding the appearance and chic of the bag and can be easily adjusted to different heights depending on your preference.
Measuring 11" x 8" x 2.5", this Chanel bag can comfortably store the essentials such as a mobile phone, purse, keys, makeup kit, and other items. The double flap interior allows partitioning of items inside the bag for simple and convenient organization. Acquired in very good condition, there is some visible wear at the bottom of the bag and on the corners with some small general wear found on the exterior, however, beyond that the bag is in superb condition. To find out more about this wonderful alligator bag including pricing click here.
Chanel Lucky Charm Reissue 2.55 Bag in Black
Rounding off our Bags of the Week this week is a Chanel Lucky Charm Reissue 2.55 Bag in Black. A truly unique bag, you are sure to turn heads wherever you go with this on your arm. Crafted from calf leather, this black bag is covered in various charms for a casual and funky look. The charms represent Chanel in some way with an Eiffel Tower charm, Paris charm, Coco charm, and number 5 charm among them. Each charm has been carefully stitched on to ensure they stay attached to the bag in their correct position.
However, it isn't just the charms which are unique about this bag. The soft leather is wonderful to the touch and features the famous Chanel diamond pattern. The side panels and bottom of the bag features additional leather to allow for extra room when using it and the lock is a classic silver clasp. The chain strap on the bag provides protection to the leather when carrying it and also suits the charms perfectly for a fantastic casual look.
Measuring 7.75" x 5.5" x 3", this bag is suited to carrying the essentials around with you during the day. You can comfortably fit a makeup kit, purse, keys, mobile phone, and other items inside the open interior with two back slots allowing for extra protection for sensitive items. Acquired in very good condition, the bag has minor wear visible which you can see in the pictures. It comes equipped with an authenticity card and a dust bag. To find out more about the rare opportunity to get your hands on this unique bag click here.