Weekly Roundup: Chanel Price Increase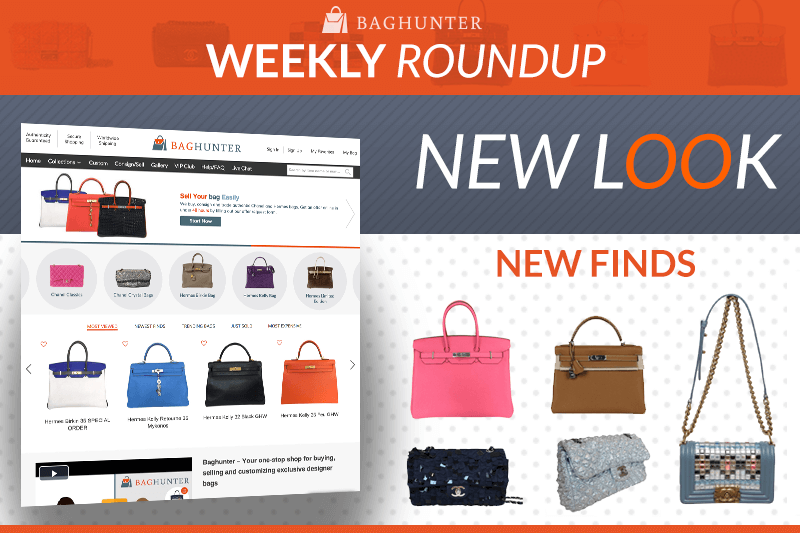 Welcome to another edition of Baghunter's Weekly Roundup, your best source of the latest news, gossip, styles, and more from Baghunter HQ and beyond. If you love handbags, this is the place to be! This week we take a look into why a Chanel price increase is just around the corner, find out what Leo DiCaprio spent $18,000 on, and check out the latest consignments on Baghunter. Enjoy!
Chanel Price Hike Imminent
This week, Luxury Daily reported the news that a Chanel price hike could be just around the corner. Basing the report on figures presented by Baghunter, the news leader in luxury marketing took into account a number of factors including a recent surge in purchases of Chanel bags by VIP clients on Baghunter and the recent harmonization of prices worldwide by Chanel.
Over the last couple of months Baghunter has witnessed an incredible surge in the sales of Chanel bags, particularly by VIP clients who are in the know. When pressed on the sudden rush to make purchases, Baghunter was informed by their clients that a suspected price increase is imminent and therefore this is the ideal time to purchase a Chanel bag.
Upon digging a little further it was discovered that Chanel haven't had a proper price increase since 2014. In fact, over the last year and a half, Chanel have been working on what they term a worldwide 'price harmonization' which involved aligning global prices for signature handbags. The three bags in question were the 11.12, 2.55, and the boy bag. With the project now complete and prices the same for these bags regardless of where you are in the world, it stands to reason that a price increase, which occurred every year previous to 2014, is on the way.
So, what does this mean for regular customers of Chanel who purchase bags for use and not as an investment or to add to a collection? Well, the exact date of the price increase is currently unknown, as is the actual increase amount, however, it seems that now is the perfect time to get your hands on that Chanel you've been dreaming about. Once the price hike comes into effect, you will not only have saved money on your purchase, but also have a handbag that can be resold for at least equal value on the resale market!
Leo DiCaprio Spends Big For His Mom
Speaking of Chanel, Leo DiCaprio hit the headlines in various outlets including StyleCaster when he purchased an $18,100 Chanel bag for his mom while attending the Cannes film festival. The limited edition bag was sold at an auction to benefit the Heart Funs and was the first item on the agenda. Leo was more than happy to purchase the stunning silver snakeskin limited edition Chanel bag for his mother, Irmelin Indenbirken.
This isn't the first time Leo has splurged on a Chanel bag for his mother. Earlier this year she was his date for the Academy Awards where he won the Oscar for best actor. At the event she was sporting an $11,000 rare blue chain-strap bag from Chanel's 2015 Dubai-themed cruise collection. If he keeps this up, he'll be set to spend $25,000 on a Chanel bag for his mom next year!
Baghunter's Newest Finds
This week we have consigned two very special bags – one Hermes Birkin and one Chanel Limited Edition. The Hermes Birkin JPG Shoulder Bag in black is extremely rare and boasts a slightly different style to the regular Birkin. Crafted from Clemence leather, the black color is versatile and perfect to match almost any outfit. Boasting palladium hardware, the bag also comes with a lock, keys, clochette, and sleeper. We were lucky enough to consign this bag in excellent condition, meaning there may be very minor signs of wear. Find out more about this wonderful bag here.
The second bag we have consigned this week is a Chanel Ice Cube Metallic Limited Edition Bag. There are no two ways about it, this bag is stunning and a real head turner. Crafted from lambskin leather, the gold metallic color is simply stunning and set off perfectly by the gold hardware. A real collector's item, this bag was also acquired in excellent condition, meaning there may be very minor signs of wear. Find out more about this rare Chanel bag here.
Don't Forget…