Weekly Roundup: Baghunter's Redesign and More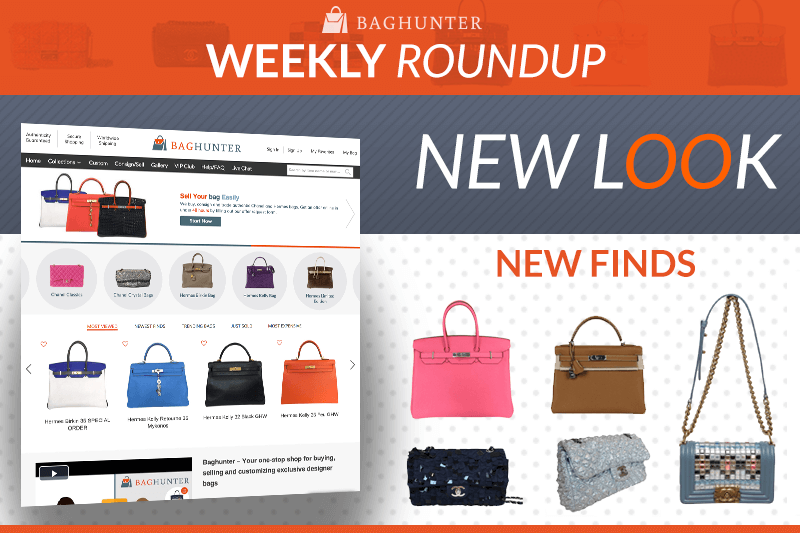 Welcome to the Baghunter weekly roundup. A new feature, the weekly roundup will give you a chance to find out what's happening at Baghunter HQ, discover the latest news from the ultra-luxury handbag industry, and gain insights into the latest trends and styles.
Launch of Baghunter's Redesigned Website
This week saw the launch of Baghunter's newly designed website. Having been in the pipeline for many months, the finishing touches were finally applied to our modern and user-friendly upgrade on Monday and the website launched to the public on Tuesday to much excitement. The main aim of the revamp is to make the site easier to use, help navigation, and allow users to enjoy the full Baghunter experience with minimal fuss.
Our Collections page has been upgraded with advanced search features including the ability to refine searches by brand, color, size, condition, price, skin type, and hardware as well as searching by keyword or phrase. Users can also sort the results by featured, price, A-Z, date listed, and recently sold. Another exciting feature is the ability to save your favorite bags for future reference. Simply create an account using your email address or social media account and click on the heart icon located at the top right of each listing. You can then access your favorites via the 'My Favorites' link.
As part of our promise to provide the highest possible standard of customer service, we have also upgraded our Help/FAQ section and added a Live Chat section. Users can now browse a huge range of frequently asked questions in various subsections as well as chat to our advisors online during business hours. We will also be publishing a range of guides, insights, blog posts, and other pieces of useful information to ensure you have the most accurate and up-to-date information before you purchase your dream bag.
Baghunter Bespoke Bag Used for Engagement Proposal
This week also saw one of the most exciting sales Baghunter has ever made. Upon the purchase of a Birkin bag, a customer requested the use of our Bag Bespoke service to create custom artwork on the exterior of the bag. The artwork in question? The names of himself and his girlfriend and a date of proposal, all enclosed in a red heart. That's right, the client intended to use the bag as an alternative to a diamond ring when proposing to his girlfriend.
This proposal has brought to light the growing trend of young affluent men using unconventional gifts to replace engagement rings as an engagement gift. The story attracted the attention of media outlets such as the Observer who questioned if Birkin bags could be the new engagement ring. It is certainly something worth thinking about in light of the investment potential in Birkin bags.
You will be happy to hear that our client is now happily engaged to a fiancée who 'wouldn't trade her Birkin for anything in the world'.
Newest Finds for Sale
Rounding off this week's roundup, we are delighted to announce the arrival of two Chanel Double Flap Limited Edition clutches, one of which is an eye-catching Chanel Double Flap Small Silver and the other a breath-taking Chanel Double Flap Navy Blue. Both bags are extremely rare finds and come with authenticity cards, boxes, and sleepers.
Also newly listed is a stunning Hermes Birkin 35 Rose Lipstick in excellent condition, made from Togo Leather and featuring palladium hardware. We have also acquired a stylish Hermes Kelly 32 Gold in pristine condition, also made from Togo Leather and featuring palladium hardware.
This week we've also secured a unique Chanel Boy Bag Mosaic Blue which features a unique mosaic design that is sure to turn heads wherever you go. This bag is extremely rare and almost impossible to find elsewhere making it a valuable collector's item as well as a bold fashion statement.