Weekly Roundup: Birkin Record Broken!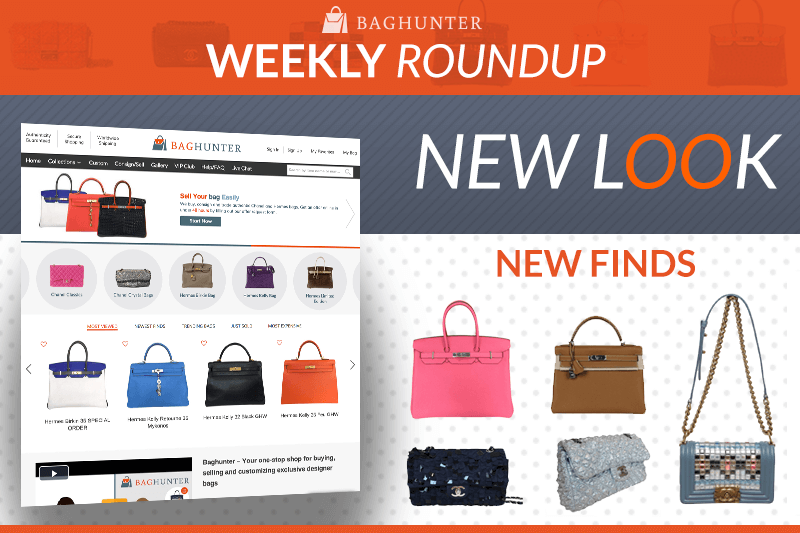 Welcome to Baghunter's Weekly Roundup, your opportunity to catch up on the latest news from Baghunter HQ, find out what's been happening in the ultra-luxury handbag industry, and catch up on the newest trends and styles. This week we look at the exciting news of a Hermes Birkin selling for a record $298,000, walk you through our new and simple consignment process, and check out the newest finds!
Hermes Birkin Sells for Record $298,000
This week The Australian broke the news of a record Hermes Birkin sale. The bag in question is a stunning and rare fire-engine red, also known as braise, crocodile Birkin which features 18K white gold and diamond hardware. The bag sold for an astonishing $298,000, smashing the previous record of $222,000 which was set last year. However, what makes this sale even more interesting is that the bag was specifically purchased as an investment piece with the intention of being sold on for a huge profit.
The investor was Jeffrey Bank, founder of Boca Raton, who purchased the bag in 2008 for $160,000 from a Hermes boutique based in New York City. This sale represents an incredible $138,000 profit in the space of only 8 years. As the bag was purchased specifically as an investment, it was kept in pristine condition and proper storage during that time. This story is very encouraging for those who have made an investment in a Hermes handbag and also acts as an eye-opener for those who have been considering making the investment.
Baghunter has Streamlined the Consignment Process
Many of our regular clients will have noticed changes on the Baghunter platform in recent weeks and we are delighted to announce another major change to our service. This week we have launched our streamlined consignment process, making it easier than ever for you to sell, swap, or consign your Hermes or Chanel handbag. As our clients know, we pride ourselves on offering the quickest and most professional service available in our industry and we feel that this latest change attains to that.
If you are considering selling, consigning, or swapping your luxury handbag, simply navigate to the consign link at the top of the website. Here you will find a short explainer video alongside a large link which states 'Click Here to get an Offer'. You can also find reasons why selling, consigning, or swapping your bag with Baghunter is the best option and information on why each option might be the best for you.
To start the process, simply click the 'Click Here to get an Offer' button and you will be directed to a short web form where you can fill out personal details, contact information, any relevant details about the bag you wish to consign such as condition or specific wear and tear, and upload pictures of the bag. We recommend you upload high quality pictures from numerous angles to give us the best opportunity to evaluate the bag. Once submitted, we guarantee to respond within 48 hours either with a preliminary quote or a request for further information or pictures.
If you are happy with the preliminary quote, we will provide an insured postage stamp for you to send us your bag with and inspect the bag thoroughly upon arrival. After the final inspection we will contact you with a final offer. If you accept the offer you will be paid into your account within 48 hours or receive the credit on your Baghunter account immediately. It's that simple!
Baghunter's Newest Finds For Sale
This has been an extremely exciting week for us as we have got our hands on two stunning bags which are now listed for sale. The first is a Hermes Constance Mini 18 in a rare and breath-taking Bleu Glacier color. This bag is a true stunner, with wonderful details found on the Epsom leather and palladium hardware. The coveted size 18 provides the perfect amount of space to hold essentials. Acquired in pristine condition, meaning it is in the same condition it was when leaving the factory, this Hermes Constance Mini comes with a sleeper and Hermes box and is available for $17,000.
The second addition to our portfolio is an eye-catching Chanel 2.55 Reissue Silver Fonce. This bag is a one of a kind, limited edition and we are extremely lucky to be able to offer it to our clients. Crafted from metallic calfskin, the feel and appearance of this 2.55 reissue is like no other. The silver hardware on the bag perfectly complements the silver fonce color, while the size is ideal for it to be used as an evening or formal bag. Acquired in excellent condition, meaning it may show some very small signs of wear, this bag is available for a knockdown $5,095.
Don't Forget…