Bag of the Week: Crocodile Special Order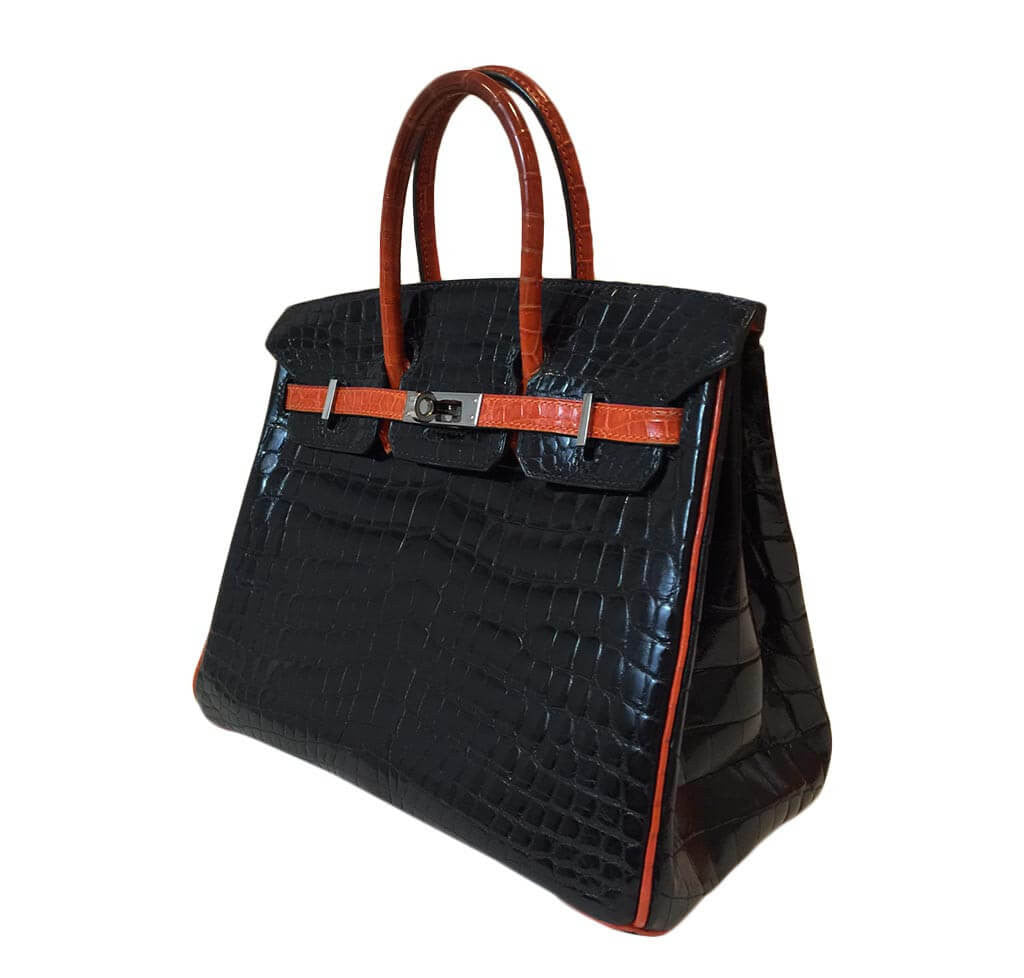 Welcome to the first in a new Baghunter feature where we choose one special bag to place under the spotlight each week. To kick start the series, the Hermes Birkin 25 Bi-Color Crocodile Special Order, a one-off, unique bag in a highly-coveted size 25, is our focus.
Offering style and elegance, this bag is completely unique and can't be found anywhere else in the world. Hermes has outdone itself with the design of this Birkin which emanates a combination of refinement, class, and luxury.   
Crafted from exotic black shiny crocodile skin which is offset wonderfully by ruthenium details, the Birkin is the perfect complement to any outfit and is suited to any occasion. The two-tone colors are accentuated with palladium hardware, providing another element of luxury on this already stunning bag.
The embossed Hermes stamp complete with two dots ".." signifies that the exotic crocodile skin from which the bag is constructed is the Niloticus Crocodile from the Nile River. This crocodile skin has now been made redundant by Hermes on special order handbags, making this particular bag even rarer and an extremely valuable find.
The ruthenium detail on the bag, especially on the clasp's attachments and on the handles are another rare and unique detail of this bag. It is extremely difficult to achieve this pale color by dying crocodile skins and ruthenium ranks among the rarest crocodile skin colors in the Hermes collection. 
In addition to the rare color, the medium thickness of the handles provides the feeling of sublime luxury to the touch, while also offering durability. Designed to stand upright and never sag, the handles are perfect for wearing the bag in the crook of the arm or for carrying it by your side.
Acquired in excellent condition, this bag comes equipped with all the accessories including sleepers, a raincoat, a Hermes box, a lock coated in identical exotic black shiny leather to the bag itself, a Hermes stamped key, and a clochette crafted from a single piece of crocodile leather.
This bag embodies the timelessness of the Birkin, providing style and luxury year after year and season after season. As the only bag of its kind in the world, it is a holy grail among Birkins and with a unique color combination, a material that is now discontinued on Hermes special order handbags, and all the accessories it is an absolute gem of a find. A once in a lifetime opportunity, this bag is on sale for $114,000.