The Investment Value of Hermès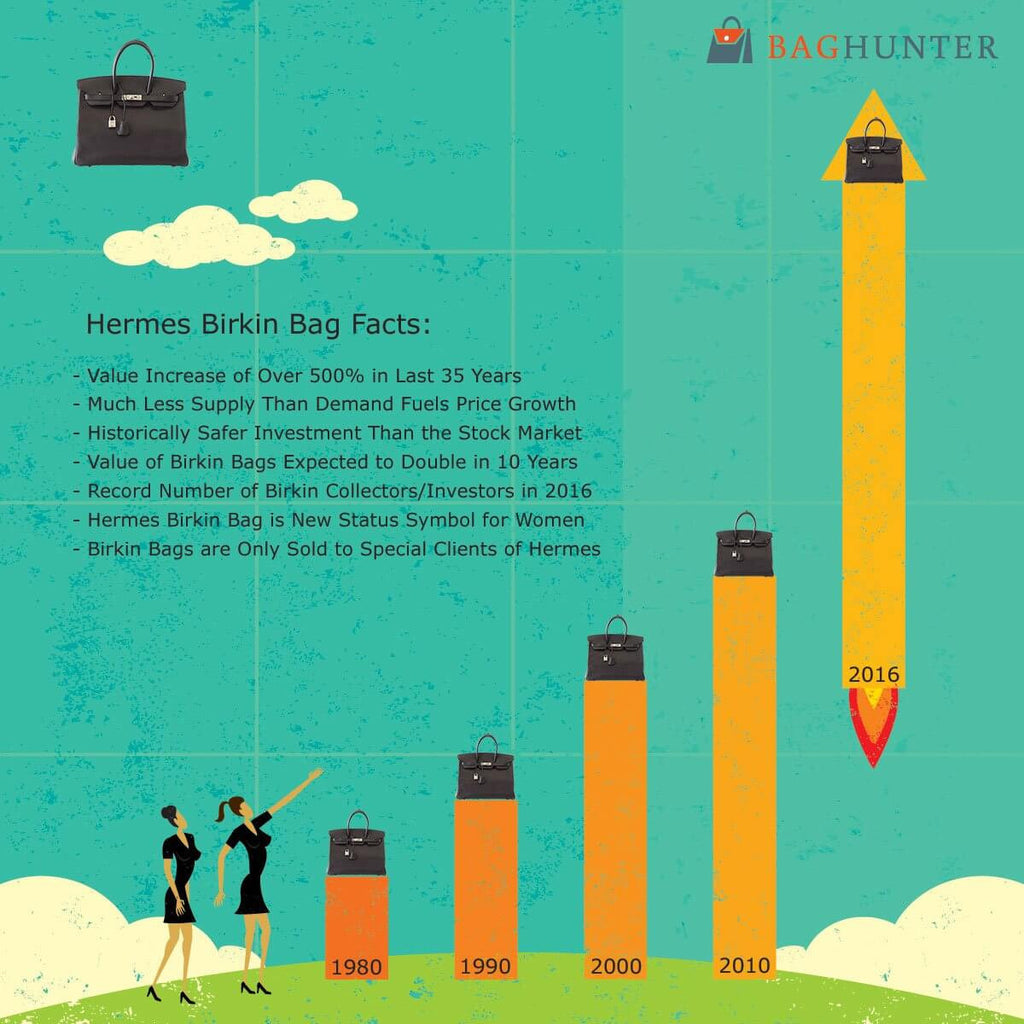 There is some merchandise in the world that the value appreciates over time. Specific products from Hermes, especially the signature Birkin and Kelly bags, are pieces of merchandise that are becoming even more expensive as the years go by. This means that they have great investment value and are a top pick for a collector's piece that will be worth even more a few years down the road.
Compared to the 1950s, when the Kelly bag first began to rise in popularity, Kelly bags are now much more expensive. This is due to their popularity and exclusiveness. Both Birkin and Kelly bags are becoming rarer and there are plenty of limited edition designs that aren't made anymore, meaning there are only select few in the world that you can get your hands on. This leads to a high amount of competition, which leads to a higher price.
Kelly and Birkin bags are also made with expensive materials including leather and exotic animal skins. At the moment, the value of both silk and leather are beginning to rise, meaning Hermes products are going to see another increase in value and price.
Shares in Hermes are already 3 percent higher than they were just a week ago, at a total of 331.00 US dollars. Calf leather, in particular, is rising in value and is a very essential material used to make Hermes Birkin and Kelly bags.
For example, a Hermes Togo Kelly 32 Bag saw a very substantial increase in price over the space of just a few months. This shows just how much the price of these bags has gone up, and how much they will continue rising in the following years.
Increase in Hermes Kelly bags since the 1950s
In the 1950s, Kelly bags were worth around $900.00 USD. Today in 2014, you can find a standard one (made with leathers such as Clemence or Togo) for nearly $10,000, with limited edition pieces reaching up to $90,000. This means that in fifty years, the price for a Hermes Kelly bag has increased by over 1000% its original price. This is due to the exclusiveness of these bags, how rare they are, and the value of the materials used to make them.
Increase in Hermes Birkin bags since the 1980s
The Birkin bag, on the other hand, was first named in 1981 after the actress Jane Birkin. At that time, a standard Birkin bag could be bought for around $2,000 USD. Today, a standard Birkin bag is listed at around $10,000 - $12,000 and ones made with exotic skins can reach six figures.
View the following chart to see how Hermes Birkin and Kelly prices have increased over each decade:
Hermes Kelly (For a standard leather bag)
| | |
| --- | --- |
| Year | Price (USD) |
| 1950 | 900.00 |
| 1960 | 1,300.00 |
| 1970 | 2,450.00 |
| 1980 | 4,000.00 |
| 1990 | 5,100.00 |
| 2000 | 7,400.00 |
| 2014 | 9,250.00 |
Hermes Birkin (For a standard leather bag)
| | |
| --- | --- |
| Year | Price (USD) |
| 1980 | 2,000.00 |
| 1990 | 2,750.00 |
| 2000 | 4,000.00 |
| 2014 | 11,000.00 - $12,000.00 |
As you can see, Hermes Birkin and Kelly bags are not only exquisite and lovely to look at, but they are also very valuable collector's items that will continue to grow in price. If you want an amazing bag that is made with expert craftsmanship and will increase in value over the years, then Hermes is a must-have designer piece.