Weekly Roundup: Mayweather's Hermès Splurge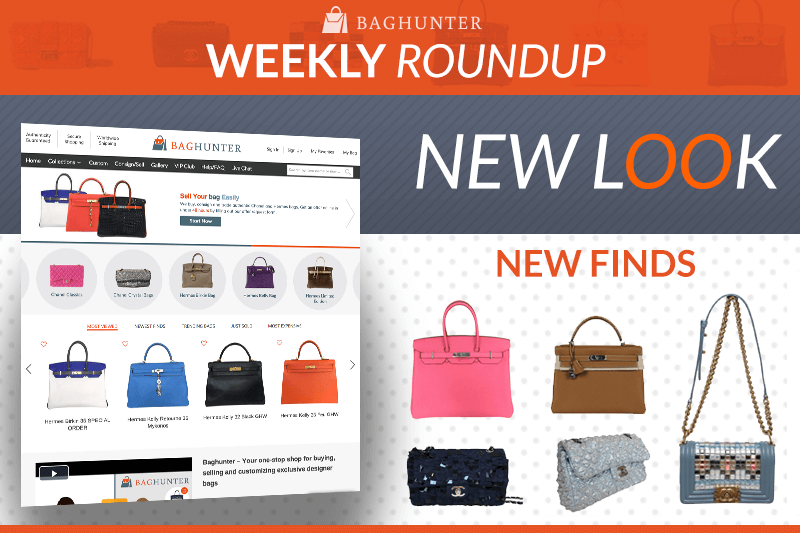 It's Friday which means it's time for another edition of Baghunter's Weekly Roundup, your chance to catch up on celebrity handbag gossip, see what's been happening at Baghunter HQ, and find out about the latest trends and styles from the world of ultra-luxury handbags. This week we take a look at Floyd Mayweather's Hermes splurge in Paris, go behind the scenes at Baghunter to see what it's like to be a member of the VIP club, and check out the newest finds!
Mayweather Spends $400,000 on Hermes Handbags
Boxing superstar, Floyd Joy Mayweather Jr., embarked on an extraordinary Hermes handbag shopping spree this week according to a report by Pursuitist. The five-division world champion who remained undefeated as a professional boxer purchased an astonishing five Hermes bags which are worth $400,000 on a shopping trip to Paris.
Boasting in an Instagram post, Mayweather showed off five crocodile bags including a size 55 Hermes Hac crocodile men's travel bag and three size 50 Hermes Hac crocodile men's travel bags for himself. He finished off the shopping spree with a rare size 40 orange crocodile Birkin which he purchased for his on and off girlfriend and mother to his daughter, Melissa Rene.
His Instagram post showed the retired boxer inspecting the stunning bags with an accompanying soundtrack about 'ballin'. No stranger to an extravagant lifestyle, Mayweather has certainly struck a chord with the millions of women worldwide who would love the opportunity to get their hands on a single Hermes Birkin, never mind five at once!!
What is it Like to be a VIP Member with Baghunter?
One of the most asked questions we get asked at Baghunter HQ is about our VIP Club. A unique concept which can't be found on other luxury handbag consignment sites, Baghunter's VIP Club is an opportunity to get your hands on the most exclusive and rare ultra-luxury handbags before anyone else. But, that's not the only perk of being a VIP Member…
Starting at $1,400 per year, the VIP Club may seem expensive. Until you understand what you're actually getting in return and the huge savings that are possible with membership. Becoming a VIP Member isn't as simple as paying the fee. Baghunter implement a process where they vet each and every applicant to ensure the club remain exclusive and members are genuine lovers of ultra-luxury handbags.
If you're lucky enough to be accepted you can expect a range of benefits. First up there's the regular emails offering VIP members first dibs on each and every bag consigned by Baghunter. This is an opportunity like no other as some extremely rare and unique have been snapped up before even appearing on the Baghunter website.
Then, there's the other benefits for serious handbag collectors. All purchases are fully insured for free when made through Baghunter. VIP Members also gain access to personal shoppers who will locate any bag you desire worldwide, regardless of rarity. Not to mention the VIP Insider News to keep you one step ahead on what's hot and what's not as well as providing essential information for when the best time to sell is to make a maximum profit on investment pieces. Oh, and when you consign with Baghunter, you pocket a massive 10% more!
Other perk such as exclusive access to the Baghunter Professional Bag Spa and a complimentary bag accessory every year make the VIP Club a must for any serious ultra-luxury handbag collector or investor. Why not check out the full range of perks here.
Baghunter's Newest Finds
This week we are delighted to announce the arrival of two stunning Hermes bags – a Birkin and a Kelly. The first is a Hermes Birkin 35 Gris Tourterelle which has been crafted from Togo leather and accentuated by palladium hardware. Measuring 14" x 11" x 7", this rare Birkin is almost impossible to find elsewhere. Accompanied by a lock, keys, clochette, raincoat, and Hermes box, this Birkin was acquired in very good condition meaning it may show minor signs of wear throughout the leather.
The second arrival this week is a wonderful Hermes Kelly Retourne 35 in an incredible orange poppy color. Crafted from Taurillon Clemence leather, this bag also features palladium hardware on the lock, keys, clasp, and studs. Measuring 14" x 11" x 7", this rare Kelly is difficult to find elsewhere, especially in a hot poppy color. Accompanied by a strap, lock, keys, clochette, sleeper, and Hermes box, this Kelly was acquired in pristine condition meaning it is in the exact same condition as when it left the factory in Paris.
Don't Forget…