The Most Desired Hermès Bags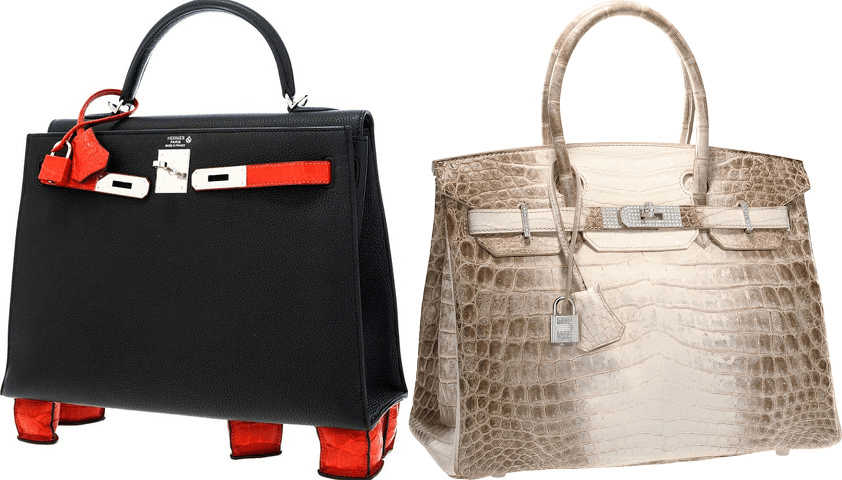 Hermes bags are known all over the world and are desired by many. This iconic bag comes in hundreds of different designs and styles. Prices can range anywhere from $11,000 to $185,000.

It shocks many that a handbag can be so expensive. The craftsmanship and materials that go into these bags make them extremely valuable, as well as the exclusivity and fact that you can't find them in stores. Hermes bags are known as a symbol of status and wealth.  

They are also great investment pieces, as the price of them tends to increase, especially with more limited edition bags. Hermes bags are definitely nice to look at, and make for a great addition to any collection. 

Here are some of the most expensive Hermes bags on the market:

The Hermes Kelly Geranium Porosus bag
This is an ultra rare and expensive piece from Hermes. It sold for $125,000 at the 900-Lot Heritage Auctions Holiday Luxury Auction in Dallas, Texas. It was named the world's most collectible bag and definitely has a unique look.

It is made with matte crocodile and Togo leather. The straps and built-in feet are made with red matte crocodile skin and the remainder of the bag is made with geranium Togo leather, creating a sharp and stunning contract.

The bag was made in 2010 during a Hermes project in London. Rare materials were gathered and the world's best craftsmen created something unique and unforgettable.


The Hermes Diamond Himalayan Birkin Bag
This beautiful bag is from the Himalayan collection and is made with expensive Nilo Crocodile skin. The hardware is encrusted with diamonds, driving the price up to $185,000. 
The amazing bag recently sold at the Heritage Auctions' Luxury Accessories Signature Auction in Beverly Hills. It contains 242 diamonds, bringing it to a total weight of 9.84 carats, and is made with extremely rare albino crocodile skin. The bag is one of a kind and is nearly impossible to get your hands on. 
A similar bag was sold for $120,000. This Hermes Matte Crocodile Birkin bag features clasps decorated with 10-carat white diamonds: 

The Hermes Bag by Ginza Tanaka
This bag is absolutely breathtaking and costs a shocking 1.9 million US dollars. Hermes craftsmen paired up with Japanese designer Ginza Tanaka and created a bag made of platinum, a very precious metal, as well as 2,000 diamonds decorating its exterior. The small handbag also has a diamond sling that can be detached and worn as jewelry. The final touch is the centerpiece 8 karat diamond that can be removed and worn as a brooch. This bag is simply amazing!
These bags are extremely valuable and are great investment pieces. It is easy to see the resources and amount of time that went into making these extravagant handbags. Hermes definitely has created some unforgettable bags.
Posted on 04-21-2015