Weekly Roundup: Investors Delight & Celebrity Spotting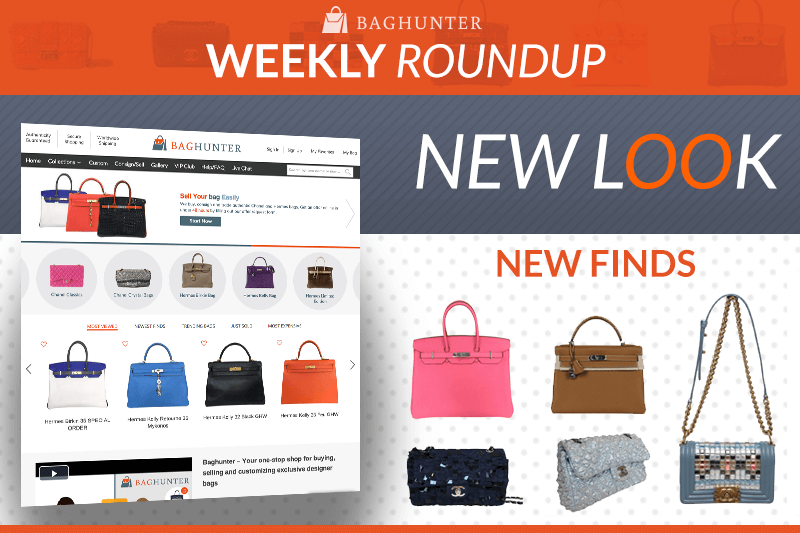 Happy Easter and welcome to the latest edition of Baghunter's Weekly Roundup. This is your chance to find out what's been happening at Baghunter HQ, gain insights into the world of Hermes and Chanel, and find out about the latest styles and trends. This week we take a look at how the latest profit margins for Hermes is music to the ears of investors, do some celebrity spotting, and take a look at our latest consigned bags.
Hermes Announce Latest Profit Margins
This week saw Hermes report a full year profit that exceeded even the most optimistic analysts' estimates with profits rising by 19 percent to 1.54 billion euros according to Bloomberg. Analysists had initially predicted 1.52 billion euros, a figure garnered from the average of 16 estimates. Adverse currency shifts had led Hermes to warn profitability would be close to the 31.5 percent seen in 2014, while other factors such as fewer tourists shopping in Europe following the terror attacks in Paris last year also led to analysists assuming a smaller profit margin.
However, Hermes is currently benefiting from two new locations where production is managed in France which is boosting its supply of leather goods. Earnings also benefited from large sales in Japan, mainly from Chinese tourists. Although the initial figures are far above the initial prediction, Hermes warned that the growth for 2016 could be below its medium term goal of 8 percent growth. However, this seems like a very low estimation based on this week's figures. Hermes also announced that they plan to raise prices by approximately 3.5 percent this year in Europe to cover raised production costs.
These reports are music to the ears of investors who have purchased a Birkin or Kelly with the intention of selling it on. The unexpected growth in sales clearly shows that Hermes handbags and other products remain as popular as ever, making it much easier for investors to shift their bags when they feel the time is right. The rise in prices of Hermes products by 3.5 percent is also music to the ears of investors as that price hike will surely be reflected in the secondary market where prices are generally in tandem with the prices set by Hermes.
Celebrities Flaunting Their Ultra-Luxury Handbags
The Hermes Birkin bag was out in force this week as both Kris Jenner and Kim Kardashian flaunted their favorite handbags for the paparazzi. Kris Jenner was spotted by the Daily Mail who say "She loves her blue Birkin bag!" Kris was jetting out of LAX to join Kendall in Paris and travelled in style with a stunning electric blue crocodile Hermes Birkin tote which retails for $95,000. A well-known lover of Birkin bags, Kris was going to support Kendall who has become a muse on the runway for Hermes.
Another member of the Kardashian Klan was talking Birkin bags this week. In an interview on her subscription-only website as reported by Yahoo Celebrity, the mother of two revealed which items she brings with her when she is accompanied by her daughter, North West. There are no prizes for guessing that the majority of the items are on the pricey side, however, the most expensive item is the bag itself, a Hermes black Birkin purse which retails for between $2,000 and $10,000.
Newest Finds
This week we are excited to announce the arrival of two Chanel bags, both of which are wonderful companions for the summer season. The first bag is a Chanel Grand Shopper Tote in beige. Crafted from a Caviar leather, which is known for its smooth texture, the shopper tote is the ideal bag to accompany you on a shopping trip or to hold all the essentials when going out with a young child. Measuring 13.5" x 9.5" x 7", the interior is very spacious and the handle drop of 7.5" is perfect for allowing the bags to hang comfortably over your hip of thigh. The silver hardware on the bag works perfectly with the beige color and pattern. Acquired in very good condition, the bag shows very few signs of wear or damage.
Next up we have an eye-catching Chanel Mini Classic Flap in a stunning red color. The flap bag is a favorite for carrying on long summer evenings and is the perfect size to fit in a phone, makeup case, keys, and other essential when going out. Measuring 8" x 5.5" x 2.75", the bag is deceivingly spacious inside and manages to maintain its shape even when full. The red color is accentuated by silver hardware and is sure to receive admiration of all who gaze upon it. Acquired in very good condition, there is some minor wear throughout the bag, however, overall it is a rare find and a great buy.
Don't Forget…